The Royal Borough Mental Health Recovery Service supports people who are recovering from mental health concerns and experiencing challenges to their mental health, physical and emotional wellbeing.
Who is this suitable for?
People over the age of 18 who live in Windsor, Ascot, and Maidenhead. You might be on a recovery journey due to a diagnosed or undiagnosed mental health condition, experiencing poor mental wellbeing due to difficult life circumstances, or are simply looking for ways to better care for and maintain good mental health and wellbeing.
In addition, if you're experiencing new stress or anxiety or have longer-term issues with depression, anger or self-esteem, our guided self-help service is for you.
What can I expect?
The service offers a wide range of free courses where we will support you to be inspired to embark on an exciting journey of self-discovery. The focus is on helping you to understand your mental health and to develop awareness of your personal coping strategies. You will have an opportunity to feel part of an understanding support network with other people that attend.
It also offers a free six-week guided self-help service that provides you with the tips and tools you'll need to help you understand and feel more in control of your emotions. Your Wellbeing Coach will support you throughout the course with weekly phone calls. In your first phone call, you and your Wellbeing Coach will explore if the service is right for you.
Fees
There is no charge for this service.
How can I access this service?
Courses are delivered both in person and online. You can attend whichever topics you're interested in. To find out more, please download the leaflet below. You can register for the courses by clicking on the button below.
You can register for the Guided Self-Help service by clicking on the button below.
Please watch this video to find out more about this service
"I liked that it was interactive. Everyone was open to sharing and it felt like a safe space to share."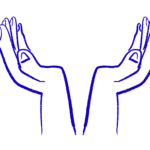 If you feel you require any support to access this service, for example hearing loop, translator or mobility aids, please call 01494 463364 or email [email protected] and we will get back to you to discuss your individual needs.