Be Active for Bucks Mind Season Two is here and your fundraising packs are ready!
Be Active for Bucks Mind is a fundraising campaign that encourages you to be active every day, supporting your mental health – while raising vital funds for Buckinghamshire Mind.
Set up your Just Giving page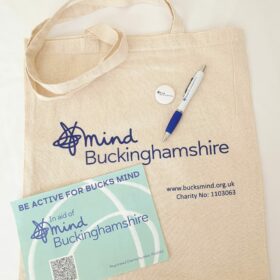 With Be Active for Bucks Mind, you can start at any time and set your goals for as long as you like. You can even set a one week on/one week off goal, whatever works best for you.
You simply need to be active in some way every day for a period of time. You can do gardening, dog walking, yoga or even be mentally active by completing a crossword and starting a new book. You can do a different activity every day or repeat the same one. Going on holiday? No problem – those beach walks, pool swims, fields hiked and market walks all count!
Count me in, how do I get started?:
Decide when you want to start and for how long
Set up your page here: JustGiving fundraising page (on your unique page, you can even tell your story of why you are fundraising and what you hope to achieve, offer updates and post pics)
When your Be Active for Bucks Mind Just Giving page receives its first donation, we will send you your pack of: Tyvek bib, badge, stickers and pen
Ask your friends, colleagues and family to sponsor you along the way, simply email them your Just Giving page and post it on your social media platforms
At the end of your Be Active for Bucks Mind, you will receive a Certificate of Achievement. Plus anyone who raises £100 (and over) will also receive a Buckinghamshire Mind tote bag.
If you have any questions please email: [email protected]
We are happy to help get you going and to support you along the way!