Our Befriending service offers short term support to adults in Buckinghamshire who are lonely or isolated as a result of mental illness.
Who is this suitable for?
Anyone over the age of 18 who is experiencing mental health difficulties (excluding dementia) may be able to use our service.
What can I expect?
Our Befriending Coordinators recruit and train volunteers who then form 'partnerships' with people from the local community. These can be for up to 6 months and can focus on a specific activity or on learning a particular skill or be purely for regular social contact.
Fees
There is no charge as the service is funded by Buckinghamshire Council. Capacity is limited, so there may be a wait to receive support.
How can I access this service?
You can be referred to this service by your GP, the Adult Mental Health Team or other agency.
"I can't put into words how grateful I am to have a Befriender. Befriending is incredibly helpful and I am so thankful I have this support. When I started, I didn't believe what a difference it would make to my life."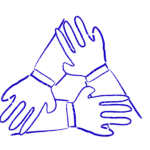 Find out more about volunteering as a Befriender
If you feel you require any support to access this service, for example hearing loop, translator or mobility aids, please call 01494 463364 or email [email protected] and we will get back to you to discuss your individual needs.