We provide high quality one-to-one counselling to adults with a variety of mental health needs.
We can work with people who are experiencing anxiety, depression, loss, relationship issues, difficulties with anger, recovery from traumatic events or are struggling to cope with the pressures of life.
Who is this suitable for?
We can offer counselling to people over the age of 18. Our service may not be suitable for some people, but this will be decided between the counsellor and the individual during the initial appointment.
We can also work with organisations to provide counselling for employees. For more information, please contact the Counselling Team Lead via email: [email protected]
What can I expect?
Our core purpose is to provide a confidential counselling service that is available to individuals regardless of age, gender, sexuality, disability, religion or background.
We are an independent service, operating separately from GPs and other Statutory Agencies. We will only report issues to other agencies if we have concerns about the safety of a service user or someone they tell us about. Individuals will be offered an initial appointment to ascertain that we are the right service for them. Following this, they will be offered weekly counselling sessions with their allocated counsellor. The duration of each session is 50-60 minutes. Please be aware that due to high levels of demand for this service, individuals may have to go onto a waiting list for their ongoing counselling to start.
Our service is an organisational member of the British Association of Counselling and Psychotherapy and our counsellors adhere to and work within the BACP Ethical Framework for the counselling professions.
Fees
Buckinghamshire Mind's adult counselling service is self-funding and, for the service to continue, it is necessary to charge a fee.
Fees are discussed at the initial appointment and the amount agreed will be the fee charged for the initial appointment and all ongoing sessions.
To find out more about our Fees, please click here.
How can I access this service?
If you would like to refer yourself to our counselling service, we'd love to hear from you. Please call us on 01494 463364, or you can download the form below and send it to us.
"My counsellor was very effective, listened and non-judgemental. I also learnt about my own behaviour in a safe environment."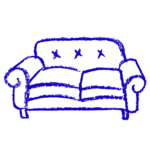 If you feel you require any support to access this service, for example hearing loop, translator or mobility aids, please call 01494 463364 or email [email protected] and we will get back to you to discuss your individual needs.
Volunteer Counselling Placements with Buckinghamshire Mind
We welcome applications for Volunteer Counselling Placements. Counsellors seeking a voluntary placement must be at an advanced stage of training e.g. as a minimum you must have completed a foundation/certificate level counselling course (or equivalent) and be in the second year of a counselling diploma or equivalent. We do not consider applicants on a distance learning course. Applicants should have at least 50+ supervised hours of clinical experience.